NATURE OF THEATRES #23
Performing Arts Festival
TOUCHING

2018-2020 <<< ND'T 2018

TENDER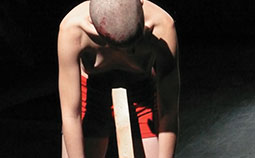 Nature Gods Theatres, directed by Maria Federica Maestri and Francesco Pititto, reaches the twenty-third edition and expands its horizon with a summer season dedicated to the most inspiring names of Italian artistic research, and a fall edition of international breath. Theatre, music, dance, video and performance, also resulting from prestigious residencies of international artists, staged at Lenz Theatre and other historical and monumental venues in Parma. Starting from June 18th.
The theme concept of the three-year period 2018-2020 is Touching. Inspirations from Jean-Luc Nancy, divided in Tender in 2018, Smooth/Striated in 2019 and Effort in 2020.
The Artistic Directors Francesco Pititto and Maria Federica Maestri suggest: «Touching is essential to experience, to knowledge and to the affective relationship, and yet today we touch less both things and people. For Jean-Luc Nancy, existence is a body, there is no other evidence than that of the body: "Our existence is touch: we touch each other as we exist. Our touch is what makes us "(J.L. Nancy, Plural singular Being, 1996)».
Twenty-three years of history. Twelve artists selected in this program: Maria Federica Maestri and Francesco Pititto by Lenz Foudation (I), Tim Spooner (GB), Boris Kadin (Croatia), Claudius Rocchetti, Andrew Azzali, Fiorella Iacono, Ash Moon, Lemming Theater, Claudia Castellucci e Chiara Guidi by Societas, Cristina Kristal Rizzo. Eight performances with twenty-three show sof which four are world premières. Two international artists in residence: Tim Spooner and Boris Kadin. Two in-depth meeting for the spectators. Three venues: Lenz Theatre, the Monumental Complex of Pilotta, and Oratory of San Quirino in Parma.